On Sunday, May 23, the Girls Lacrosse team made it to State Championship game to play Monticello.  The game started out by Buffalo taking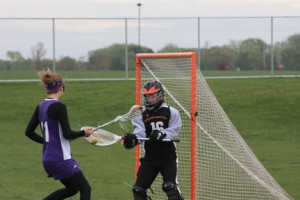 the lead 6-5.  After half-time, Monticello pulled out a tie at 6-6.  Unfortunately, Buffalo fell short and lost 16-9.
"We played really well," said Senior Monica Shoberg.  "It was unbelievable.  During Monticello's season, no team scored more than three goals against them."
Regardless of not winning at State, the Girls Lacrosse team accomplished a lot this season.
"This year, there were 35 of us," said Shoberg.  "We had enough for two teams.  There was also a huge variety in the ages of the players, so at the beginning of the season, there was some drama.  We all sat down and talked about it and after that, we all got along much better."
One of the team members, Sophomore Stephanie Catton, was recently diagnosed with a brain tumor. To help support and send their love the team wore ribbons on their jerseys.